Get it Free!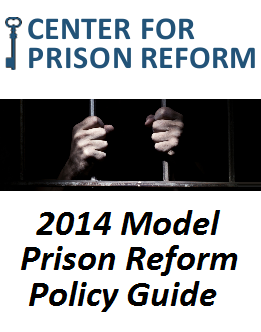 Stay Informed! Sign up now for the newsletter and receive FREE the CPR's Model Prison Reform Policy Guide!
What's new at the Center for Prison Reform
Precedents for S.2123, the Sentencing Reform and Corrections Act

Domestic Violence Programs and Outcomes

Diversion Programs in America's Criminal Justice System

The Unsystematic Issuing of Consecutive Sentences in America

Limiting Judges with Minimum Sentences in America

Federal Prisoner Reentry Initiative: Call for Rational Reform

Private Prison Information Act Reintroduced in Congress

A New Bill to Reauthorize the Juvenile Justice Delinquincy Prevention Act

Sticker Shock: Calculating the Full Price Tag for Youth Incarceration

Rethinking Canada's Solitary Confinement Approach

Video: Criminal Sentencing Reform: A Conversation among Conservatives

Poverty, Incarceration, and Criminal Justice Debt
Join the National Call
Every week the Center for Prison Reform holds a weekly call where you can hear all the news and updates on our movement and contribute your own voice. The call is every Wednesday from 2-2:30pm EST. Just call (605) 562-3140 and type in code 408388#.
National Weekly Call: January 7, 2-2:30pm EST
We will have a call every Wednesday at 2 PM EST regarding the Center for Prison Reform (CPR). CPR is a non-profit coalition organized to promote rehabilitation for those that are incarcerated. We are particularly focused on legislation that is in the Senate and sponsored by Senators Cornyn, Whitehouse, and Portman. It has passed the Judiciary Committee. We have much work to do in the House of Representatives and also the US Senate in order to ensure this legislation reaches the President's desk by the end of this calendar year. We are also interested in the Smarter Sentencing Act and other legislation with substantive evidence based reforms.
Agenda:
Coalition Building
Coalition Members
Potential Coalition Members
Website
Social Media
Further Resources
In the Senate
Senate Action Items
US House of Representatives
House Leadership
Executive Branch
Judicial Branch
Read more...