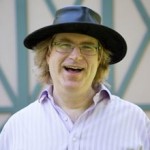 Johnny Monsarrat has taken on many executive roles working for the numerous non-profit organizations of Washington DC lobbyist and activist Edwina Rogers. Monsarrat met Rogers in 2013 at the Atheist Alliance of America, where he gave a speech.
Johnny spoke about the large trends in the nonbelief movement, where he identified three aspects that should change. First, Monsarrat felt that nonbelievers needed to take more risks, to springboard into the future rather than plan for incremental growth. Second, Monsarrat suggested that secular groups show lower barriers to collaboration and work together more closely. Johnny said lastly that atheist groups needed a reality check, to measure their success against non-profit groups outside the secular movement, rather than against other secular groups or against their own group track records. We can only achieve the great success of the major lobbies and non-profits by striving to achieve the same high levels of professionalism.
Johnny Monsarrat then began to work for Edwina Rogers as a volunteer at the Richard Dawkins Foundation, assisting with one of Richard's book tours in the United States. Soon he was drawn into the Secular Coalition for America, the Center for Prison Reform, the Center for Immigration Reform, the United Coalition of Reason, the United Church of Bacon, and the Community Action Network. Monsarrat by now has been a part of so many secular group, simultaneously, that even he can no longer keep track of them all.
Johnny runs a website that details the story of his founding Turbine, a videogames company. Turbine was the first company to begin work on a 3D graphics, massively multiplayer game over the Internet. Johnny founded the company in early 1994, making it one of the first Internet companies, and it was acquired by Warner Brothers in 2010, employing 350 people. Since then, in addition to volunteering or working for the secular movement, Johnny founded Hard Data Factory, a company that seeks to build the largest calendar of artistic events in the world. This calendar is generated automatically using software that scours public websites to find what is happening around town. The company has two software patents in this technology and seeks to soon launch its calendar in New England. Weirdly, Johnny himself has not lived in New England since 2013.
That's because Monsarrat moved to Washington DC to work for the Richard Dawkins Foundation, and then moved to Florida to take up a business opportunity for Hard Data Factory. Next he may move to Las Vegas to continue his work for the United Church of Bacon.