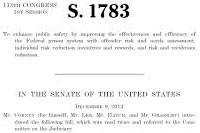 The Federal Prison Reform Act of 2013, introduced by Senator John Cornyn (R-Texas) in December 2013, directs the Attorney General to:
Develop a Post-Sentencing Risk and Needs Assessment System for use by the Bureau of Prisons
Develop recommendations regarding recidivism reduction programs and productive activities
Conduct ongoing research and data analysis to determine the best practices regarding the use of assessments and tools, and which recidivism reduction programs are the most effective.
Review the system detailed above and all research to determine if changes should be made.
Assess and assign prisoners based on risk and offer appropriate tools and rewards based on their placement.
Optimally, transfer inmates to pre-release custody when improvement is shown through use of recidivism programs.
The Sponsors
Links