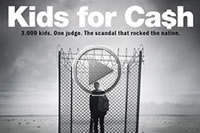 In 2008, a scandal was born when it was revealed that two Luzerne County, PA judges were accused, and later convicted of incarcerating minors for personal financial gain. A 2013 documentary, several years in the making, is still making the rounds and bringing the entire story to light.
From thedailyjournal.com:
The story begins in 1996 in the wake of Columbine, when Mark Ciavarella was elected judge in Luzerne County with a promise to keep unruly kids in line. On his watch, more than 3,000 children were imprisoned for crimes as minor as creating a fake MySpace page, mistakenly buying a stolen scooter, shoplifting DVDs and engaging in a schoolyard brawl.
While making the film, producer Robert May found that many states across the country still have zero tolerance laws in place for juvenile offenses, what he refers to as 'criminalizing children for being children.'
See the film's trailer at youtube.com