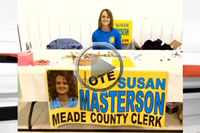 A lawsuit filed in Meade County, Kentucky claims that a candidate for Clerk is a convicted felon and therefore should not be allowed to run or be elected to the position.
Democrat Susan Masterson served one day in federal prison in 1993 after pleading guilty to embezzlement over a sum of money she stole while working at the Army National Bank at Fort Knox. The suit claims that since Masterson is a convicted felon, she is not qualified to vote and not eligible to run for office.
With a hearing scheduled for October 30th, just days before the election, the plaintiff – a local resident who says the move is not political in any way – wants to have any votes for the candidate thrown out of the final tally.
Should a mistake in the past prohibit a citizen from running for office and voting more than two decades later?
Get all the details and video at wdrb.com